We would never promote a product that solves one problem on a metal roof while creating another. The metallic coatings on steel sheet are very thin but very important for corrosion protection of the base steel. They must not be breached. That's why we created our custom-designed, stainless steel setscrew. We went to great lengths to have these setscrews custom made to our exact specifications before ever taking our products to market. This special screw has a polished rounded end to prevent damage to the protective coatings of steel sheet. But we didn't stop there.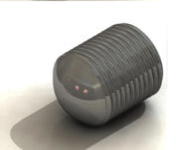 These round-point setscrews (or oval-shaped point on one end) are shaped to a specific radius and polished to eliminate abrasion to the panel finish when tensioned. But we didn't stop there either. We have also performed 2000 hour ASTM B-117 Salt Fog testing on our clamps and setscrews, attached to Galvalume® coated steel panels to prove they maintain perfect metals compatibility and cause no mechanical damage to the coating.
Although standard "cup point" setscrews are lower in cost, they should never be used on coated steel (as some of our competitors may claim). The cup point digs through the coating, creating a corrosion site.
In addition, all our related hardware is non-corrosive, 300 series stainless, not plated steel. The unique S-5! round-point setscrews are always furnished with our clamps because they offer a secure mechanical connection while protecting roof warranties.
For more information on this subject, please visit The Truth about Setscrews.