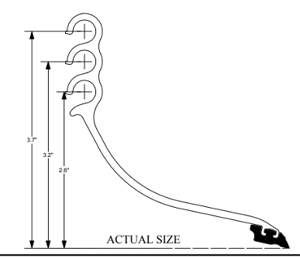 Please note: These images illustrate the SnoClip III. The steps remain the same for the SnoClip II; however, there will only be two locks on the clip.
Slide SnoClip onto ColorGard during installation. One or two clips are used between seams. Slide the SnoClip onto the back of the crossmember using the lock that results with the rubber "foot" resting properly on the panel surface. When applying downward pressure on the part, the "toe" should engage the surface of the panel just before the "heel."
Notes: Reference this chart for specific parts in the diagrams below.
1. SNOCLIP
2. RUBBER FOOT
3. COLORGARD CROSSMEMBER
4. VERSACLIP
5. M10 HEX FLANGE BOLT
6. ROUND-POINT SETSCREW
7. TOP OF THE SEAM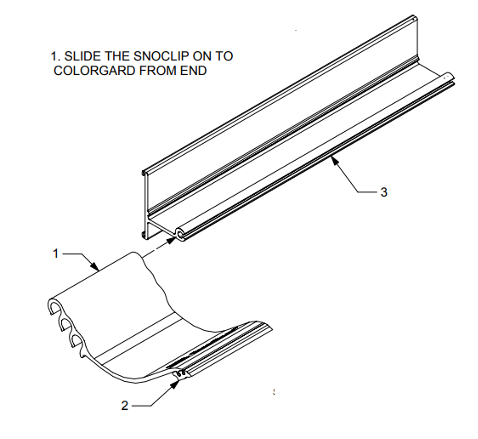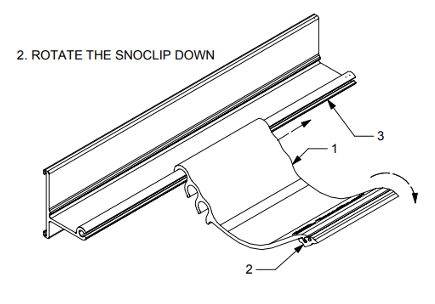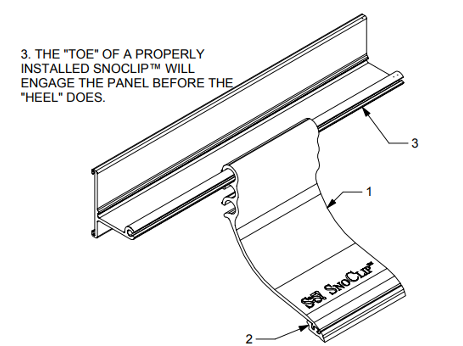 Caution: SnoClip II and SnoClip III should not be used when the attachment spacing is greater than 32" (81.3 cm). Should your seam spacing exceed 32" (81.3 cm), ask your S-5! distributor about custom SnoClips. SnoClip is not appropriate for use on copper roofs.
SnoClip may not be suitable for use on 3" seams with horizontal orientation.
Maintenance: SnoClip may need periodic maintenance. SnoClip may migrate laterally; this does not affect its performance. Some adjustment may be desired (a small dab of silicone can be used inside or alongside the SnoClip lock to prevent this).
Severe Icing: Severe roof/eave icing may damage any snow retention system. Severe icing and the formation of "ice dams" at roof eaves is neither caused by, nor cured by, snow retention and can be very detrimental to any roof system and any snow retention assembly. Freezing water is capable of cracking solid steel engine blocks, and can wreak havoc with rooftops. If the roof is prone to severe icing, it is suggested that self-regulating de-icification cables be installed to assist in preserving the integrity of both the roof material and the snow retention system.