Standing seam roof panels have concealed fastenings to the structure within the side-seams. The side-seams are vertically-oriented profiles (hence the term "standing seam". These panels are often abbreviated as SSR (Standing Seam Roof), or SSMR (Standing Seam Metal Roof). This panel type has adjacent panel edges bent up to 90° from the flat and then adjoined with the adjacent panel edge to form the joint.
The joint may be done with a male-female interface, or twin male edges enveloped by a female cap component. Some of these seam styles may be just snap-fitted to interlock while others may be folded together with special electric seamer tools as they are installed. In the case of a folded seam, it may be "single-folded" to 180º resembling an upside-down "L". In other cases, , it may be "double-folded" forming a 360° joint.
There are also less common standing seam geometries that have unique shapes of their own.
Examples are shown below.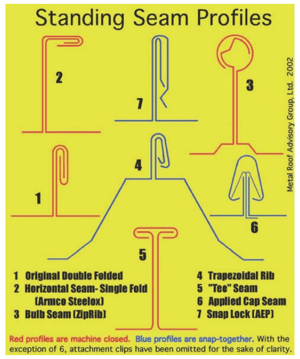 (1) Original Double-Folded
(2) Horizontal - Single-Folded
(3) Bulb - ZipRib
(4) Trapezoidal-Rib
(5) "Tee" Seam
(6) Applied Cap
(7) Snap Lock